Welcome to the Leder Eye Center
Douglas R. Leder, D.O. is a Board Certified Ophthalmologist who has been practicing in South Florida since 1990. Our office does not overbook appointments or use any technicians in performing your exam.
Areas of Expertise include: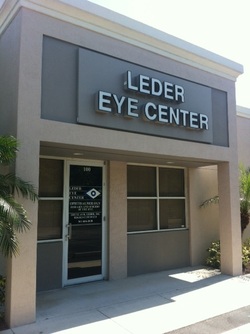 General Eye Exams
Cataract Surgery
Diabetic Eye Disease
Glaucoma
Eye Injuries
Dry Eye
Contact Lens Exams
Glasses Exams
Corneal Diseases
Retina Evaluations
We respect that you have important things to do during your day and make every attempt to maintain our appointment schedule. Dr, Leder is often "on call" for the Emergency Room and if we expect a delay we will try to contact you. People come in and more issues may arise than we expect and Dr . Leder likes to take the time to explain each situation and allow ample time for questions.

---
Dr. Leder attended Rutgers University in New Brunswick, NJ followed by the NJ School of Osteopathic Medicine. His ophthalmology training was at Metropolitan Hospital, Grand Rapids, MI, which is now part of Michigan State University. He is Board Certified and in addition to his private practice he provides care for Trauma and Emergency Room Centers at area hospitals and trauma centers.
LOCATIONS:
West Palm Beach : 500 Northpoint Pkwy., #100, behind Racetrac Gas Station on 45th Street, west of I-95.
Jupiter : 2055 Military Trail, #304, Jupiter Medical Plaza, north of Indian Creek Pkwy. and Sea Plum Publix.
Port St Lucie : 1701 SE Hillmoor Dr., #6, in medical plaza off Tiffany Drive, south of St Lucie Medical Center
Call : ( 5 6 1 ) 6 8 6 - 2 0 2 0 for more information or to schedule an appointment
Most insurances accepted